As the Pastor of HarvestPointe Church of the Nazarene I am honored to greet you with with the love of Jesus Christ! While you're here allow me to tell you about myself…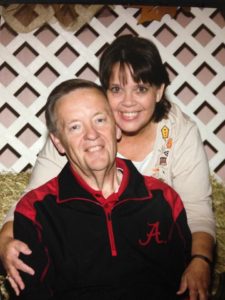 I was born on March 8, 1955 in Anniston, Al, my family moved to North Carolina when I was 6. I was saved at an early age in a small Salvation Army Church. I told my 1st grade teacher that I was going to be a "preacher" someday. At 28 years of age I preached my first message in her church (a Baptist church), and she was sitting there on the front row! I know that I am here today because Mrs. Gertrude Ferguson prayed for me all those years to fulfill God's calling on my life to be a preacher.
Since I was saved I have never doubted that God had called me to preach. I fought it for a long time and finally answered the call to full time service in 1982. In the fall of 1982 I heard an old time Nazarene evangelist friend of mine preach a message on "second blessing holiness". I knew that night that I was saved, but I also knew that I had never given my all to Jesus. I laid face down in the carpet of our little Salvation Army church then and prayed,
"Lord, I know there MUST be more to serving you than what I have. Tonight, I give you my all… all my heart, mind, body, soul and strength."
At that moment, God sanctified my soul. My life since has been dedicated to His service with a sincere desire to be Spirit led and Spirit filled daily.
My wife Diana, who gave me the extreme pleasure of marrying in 1974, and our two young children (Bradley and April) moved to Anniston, Alabama late in 1983. We began attending the Church of the Nazarene in Anniston, Alabama where we fell in love with the Nazarene Church and have never looked back. I immediately enrolled in the course of study for ministers and the rest is history!
I was ordained an Elder in the Church of the Nazarene in Cullman, Alabama in May of 1985 by General Superintendent, Jerald Johnson. It was one of the most exciting moments in my life when the general superintendent laid his hands on my head and charged me to "
do the work
" that God had called me to do as a little boy so long ago in the mountains of North Carolina. I promised God that night that I would do my very best to always live a life so that others could see Jesus in me. A prayer that I still pray daily.
Through the years, we have served in churches in Alabama and North Carolina.
I have served in the past on the District Advisory Board, the Credentials Board on the Alabama South District, and I am currently serving on the District Advisory Board and the Credentials Board in Georgia. I have also Chaired the Ministerial Credentials Board on the Alabama South District and served many years on the Camp Board of the Alabama Districts.
Today, I am currently in my 34
rd
year of full time ministry in the Church of the Nazarene and continue to experience God's sanctifying power in my life. I am thrilled to be a holiness preacher in the Church of the Nazarene. My heart's desire is to always stay in the center of His perfect will.
Respectfully,