Leadership Team
Our leadership team recognizes the authority of God and realizes that we are shepherds who serve under the Chief Shepherd, Jesus Christ. We desire to devote ourselves to prayer and to the ministry of the Word. Our passion and goal is to equip the believers for the work of the ministry until we all attain maturity in the fullness of Christ.

Rev. Gary Tankersley Lead Pastor
Today, I am currently in my 33rd year of full time ministry in the Church of the Nazarene and continue to experience God's sanctifying power in my life. I am thrilled to be a holiness preacher in the Church of the Nazarene. My heart's desire is to always stay in the center of His perfect will. I have had the honor and privilege to be married to Diana since 1974. We have two children, Bradley & April, who have gifted us with 7 grandchildren. I am beyond excited to be leading the people of HarvestPointe Church of the Nazarene, and look forward to all the work The Lord has planned! God Bless!
*** To see Bro. Gary's full bio & testimony click on the Pastor's Page tab above***
HAZAK AMATS"

Rodney Shackelford

Children's Minister
Hi, I'm Rodney, and I have lived in Columbus, GA most of my life. Although being raised in the South, I did not learn of Jesus Christ until my early twenties. It was then when I learned how life is better with Jesus in it. Now I have three wonderful sons who are an inspiration to my ministry. Through raising them I have found that we (humans/parents) can provide temporary relief from the struggles of this world, but Jesus Christ alone can provides the greatest relief through eternal salvation. Through God's guidance and grace, I am able to love and minister to our children with faith and passion. My belief, and prayer, is that by teaching them about the love of Jesus and His Holy Word that whenever they feel the weight of the world falling upon them, they will find peace and comfort in the one and only true savior JESUS Christ.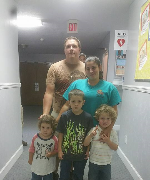 David Yonts

, Youth Minister & NYI President
In 2012 my wife, sons, & I moved to the Chattahoochee Valley area and instantly fell in love. During this time is when God started to mold and shape me. I grew up, like many kids do these days, in a broken home surrounded by bad influences. After having our first son at the age of 17 I decided things were going to be different. Three years ago God came into my life and set a fire ablaze! Due to life experiences, I knew I wanted to help troubled youth. Through God's direction I was able to accept the call into Youth Ministry in 2015. Since then we have started the youth group known as Project180, where we are working with teens not only to come to know Jesus, but to do so through The Word with a missions mindset. We encourage, and lead, them to go into the city praying and providing assistance to the less fortunate. I encourage you to come join us on this journey! God Bless!